At CANNA we're excited to share passionate grower stories from across Canada that resonate with our community and inspire us to "grow big or grow home".
THE JOURNEY
Tanner, please tell us a little about who you are.
Tanner: I'm the Co-Founder and CEO of Stewart Farms, an LP focused on sustainability and technological advancement in cannabis and cannabis genetics via vertical farming and Aquaponics.
I am a firm believer in producing quality products that also eliminate waste streams. By combining a fish farm with a cannabis grow, and focusing on genetics, our goal is to create flavour profiles so incredible, with terpenes so high, you can taste the blueberries in the blueberry kush.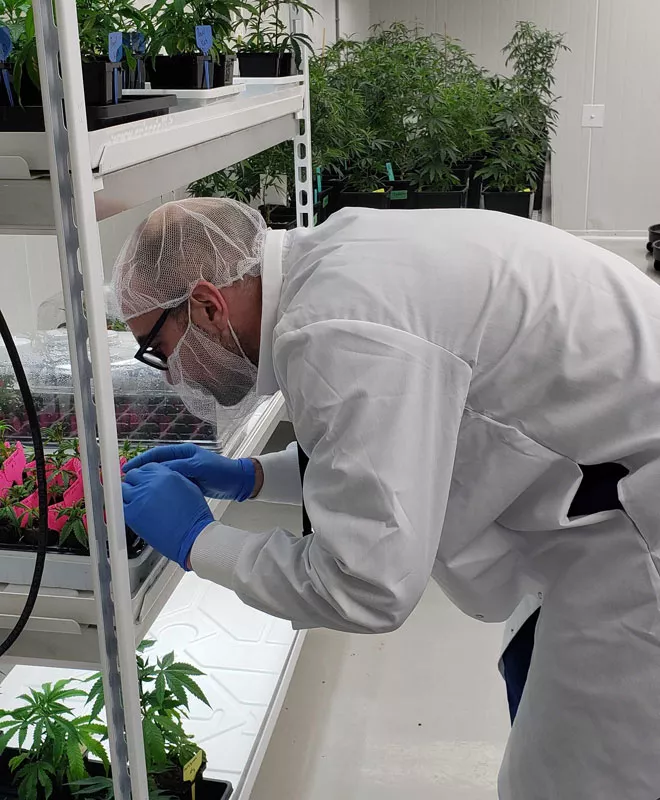 Tell us the story of how you became a passionate grower.
Tanner: I grew up with my mom & grandparents in Miramichi NB, so I basically grew up in the woods. Across the street from us, you could find my great grandparents who had one of the biggest, most beautiful gardens. My grandparents also had a big garden but my ggp's was even bigger. As a kid I used to love picking potato bugs, eating carrots out of the garden, helping my family pickle veggies, until I got older of course and then it all became a chore.
My mother loves animals and was a major influence on me from an environmental standpoint. She was always putting nature first ..."don't kill the spider!" That became a big part of me. So much so that in elementary school, I founded the "earth savers" club [laughs]. We had T Shirts and ran around school organizing garbage clean ups, investigating the water quality in the stream nearby, and generally just trying to get the community to reduce, re-use, recycle.
After high school, I became a tree planter in New Brunswick for two and a half seasons, then needed a more steady job, so I moved to Alberta, got into the construction industry which was what opened my eyes to business. I fell in love with building a business. I grew to love getting contracts, hiring people etc.
I loved the business but never got out of bed and was like "oh man, I can't wait to build that ladder today" [laughs]
Then six and a half years ago, 8 and a half years into my construction career, when my first son was about to be born, I sold half my company and had liquidity for the first time in my adult life.
During this time I was introduced to a couple of AG tech start-ups, one of which was aquaponics based, and met Rob Herring & Ryan Wirick who were producing a film about living soil. Over the years I never stopped learning about sustainability, so when it came to aquaponics, the marriage of land-based aquaculture and plant farming, I immediately got it. That was it for me, I realized that sustainable agriculture, and living ecosystems is where I was supposed to be.
It all kind of fell into place, especially when I began to ask myself " what am I supposed to be doing that will inspire my children to do great things and that will improve the state of the world when I'm gone?"
So I invested into aquaponics technology, became executive producer of Rob & Ryan's film "The Need to GROW" and really put my focus on advancing sustainable agriculture.
Sustainable agriculture, living ecosystems is where I'm supposed to be. It all kind of fell into place, especially when I began to ask myself: what am I supposed to be doing that will inspire my children to do great things and that will improve the state of the world when I'm gone?
How has your passion for growing evolved over the past 2 years?
Tanner: In January 2018 I was completely focused on lettuce and leafy greens while cannabis legalization was rolling out.
It's then that I saw a real hole in the industry in regards to sustainability. A ton of executives were coming in focused on the pump and dump as opposed to building a real company that was meaningful. I said to myself "I've been smoking weed for 18 years…but only eating lettuce for 5…" so I took my technology experience to that point, and turned my focus to Stewart Farms in January 2018. A vertical farming & aquaponics format. It just makes more sense to advance our tech with the most valuable fruiting crop in the world.
If we can grow leafy greens with flavour profiles so incredible imagine what we could do with cannabis.
I was not nearly as hands on with the food. Here I thought I was in love with the cannabis plant before I began this, but now, especially after this past year where I went from 0 cannabis growing experience to tending to 300 plants on my own during the first month of the farm, my appreciation for a well produced plant has quadrupled.
I've really fallen in love.
Right now we're pheno hunting and building an incredible library of genetics. To see how different the leaves look, the spacing, the way they react when they are potted up or transplanted … it really does feel like you're raising children … except you know you actually have to pick your favourites [haha].
Image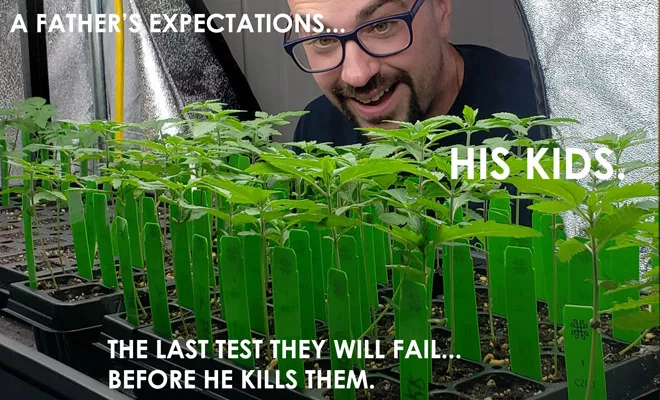 From leafy greens to Co-Founder, grower and, CEO, how has this journey changed you?
Tanner: I have an unbelievable appreciation for the plants and the growers behind the plants. I finally put my 6 years of absorbed horticulture knowledge to work during the initial growth phase of our plants. It's very different to have someone come in and tell you what's wrong with your plant versus be on your own and figure it all out …. it takes so much experience to be able to easily figure out exactly what's wrong with a plant. I have so much admiration for growers like Kevin Jodrey, a member of our advisory board, and a mentor to a lot of the cannabis industry.
It's pretty spectacular to watch how resilient these plants are, especially when a novice e like myself is looking after them …
4/20/20 is the day I got my plants and moved them in, after 2 years of waiting. Now, I'm in the process of extracting myself from the grow operations because I have far more qualified people than myself taking over the reigns.
I do however grow medically so hopefully I can build up my own personal skills over the next 5 years.
To be able to get out of bed and get to geek out on the power of living soils, fish supplied living water and microbes, it feels like being in elementary school all over again. Watching worms in the dirt, wondering in amazement ....,. It's given me my youthful curiosity and wonder back.
A PASSION
FOR GROWING
What would you consider your favorite part about the entire growing process?
Tanner: 100% picking the genetics that we're going to pop. It's pure anticipation, looking at those seeds and asking them "are you the one?"
What would you consider to be your least favorite part of the entire growing process?
Tanner: Personally diagnosing plant health problems. You can never be too sure, especially when you're inexperienced. I'll leave that to our team going forward.
What do you look for most when it comes to growth nutrients and why?
Image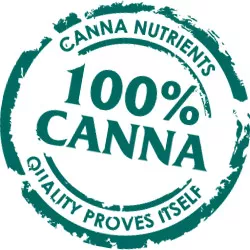 Tanner: The fish will supply approximately 70% of the nutrients. For us, the primary things we look for in any nutrient is:
Is it Health Canada approved?
Is it organically certified?
Is it sustainably produced or not? if it is, that's a bonus!
I have an unbelievable appreciation for the plants and the growers behind the plants.
What have been the biggest challenges you've faced as the Founder of an LP?
Tanner: Probably the bureaucratic process of Health Canada. Don't get me wrong the people have been great, but we submitted our evidence package and we had to wait 6 months before we could even start operating within the facility.
It's also going to be a challenge having to pay 1$ per gram to the federal government.
The uncertainty of it all. The audits. What we're doing right or wrong, and coming into it there's just this massive pressure.
Lastly, the unjustified restrictions on the industry, especially the promotional/marketing side of it all considering how lax they are when it comes to alcohol (The destroyer of worlds).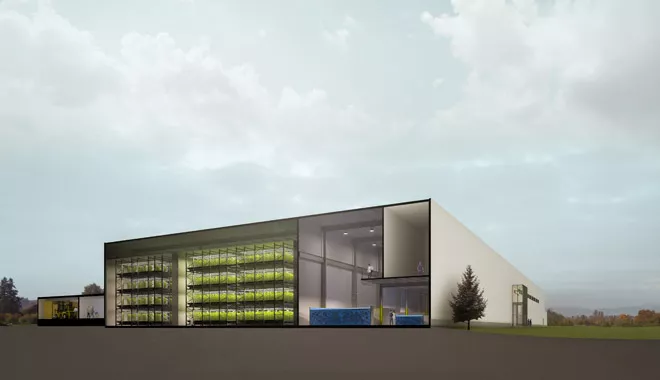 If you had a direct line to your consumer, what's one thing you would want them to know about the entire growing process?
Tanner: The #1 thing I want our consumer to know is that whether it's an infused or flower product, it's a clean product, as sustainably produced at this time within a reasonable price range. Sustainability is a journey.
In years to come, what would you like to be recognized for within the growing community?
Tanner: That we helped lead the charge in plastic-free sustainable cannabis production.
Who is someone you look up to in the Cannabis industry and why?
Tanner: Kevin Jodrey. He emotes a passion for cannabis and is also a career hustler. He has a huge amount of staying power within the global cannabis community because he just does it right. Kevin puts genetics out there that have created entire trends. I want us to live up to his standards as a company.
Image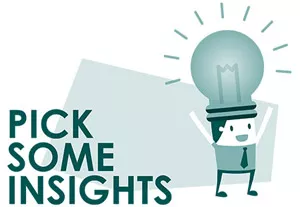 What are some of the questions a consumer should be asking a budtender when buying cannabis products to ensure they get a safe and quality product?
Tanner: It's really important for the consumers to start seeking out flavours. One thing I'm looking forward to having change within the industry is the THC % frame of mind because it's actually all about the terpenes.
I want a blueberry kush that tastes like blueberry … if you haven't had cannabis that tastes like a fruit, go find it. You need to find the flavour experience.
2 years ago I tried this lime cannabis and it tasted like someone was juicing a lime in my mouth. Now I don't care what the flavour is but I want it to taste like it. If it's called Strawberry Twist and you don't taste under tones of Strawberry then there's a better Strawberry Twist out there.
What are the advantages of buying products that were grown aquaponically?
Tanner: A cannabis plant in a living system really has that flavour profile that a lot of hydroponics growers can't hit. A living system will help create a robust terpene profile that microbes can create within the plant …
2 years ago I tried this lime cannabis and it tasted like someone was juicing a lime in my mouth. Now I don't care what the flavour is but I want it to taste like it. If it's called cherry punch and it doesn't taste like cherry then there's a better cherry punch out there.
What's the one tip you would give a home grower just starting out?
Tanner:
For a small scale aquaponics farmer to give it a shot at home I would suggest:
Lean into a fish diet more vegetarian based. Tilapia as an example, they prefer 60% veggie fish feed 40% protein profile.
Watch the salt content of your fish feed
You need a decent enough fish tank with a minimum amount of fish to get the proper amount of nutrients to your cannabis plants.
Going into full bloom you'll need enough phosphorus … don't go in thinking your aquaponics are going to give 100% of nutrients. You'll want to find an organic nutrient to add as a supplement after the fish have done their job.
Image
Tanner's recommendations
Go onto different forums and read about other people's experiences: