Benefits

CANNA Terra Professional Plus is made up from raw materials each of the highest quality. Exclusive, high grade ingredients such as airy peat moss and different types of tree bark (as a substitute for perlite) are components of CANNA Terra Professional Plus.
They have an antiseptic effect and increase aeration qualities.
This has a direct result in promoting exceptional root development and formation of thicker stems, while faster metabolism combined with low sickness rates ensure an increased production.

CANNA Terra Professional Plus is enriched with special feeding mixes, containing all the elements plants need during their first week, meaning no additional feeding is needed at that time!
The medium is also pH-adjusted for long-term control with a lime charge large enough to last an entire cycle. It has a mineral-nutrient starter charge that adjusts the initial level of nutrients up to a good beginning charge, correcting the ratios to work perfectly with CANNA TERRA nutrients.
How to use?

Loosen the CANNA TERRA PROFESSIONAL PLUS and fill the containers, compressing the medium slightly. Add water until a little begins to drain through and then place the plant in the CANNA Terra Professional Plus.

CANNA Terra Professional Plus plastic packaging material is 100% recyclable.


Store in a cool, dark place
Do not expose to temperatures below 4ºC
Bag contents 50L
Additional info
Additional info
Image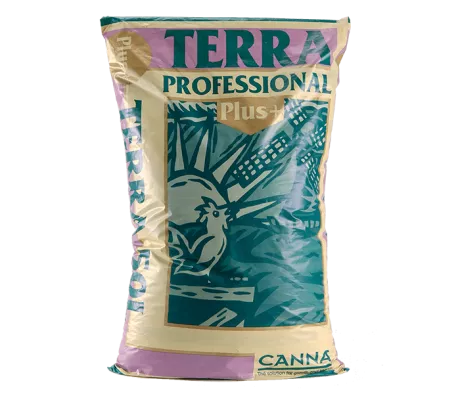 Image